Our Partners
LOLC General Insurance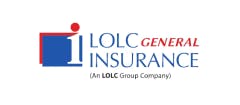 Admired as Sri Lanka's most profitable corporate entity; the largest Non-Banking Financial Institution (NBFI) and one of the most strategically diversified conglomerates, the LOLC Group is engaged in leisure, plantations, agriinputs,renewable energy, construction and real estate, manufacturing and trading, technology, research & innovation and other strategic investments. As a leading player in Sri Lanka's MSME sector, the LOLC Group has been a catalyst in facilitating financial inclusion, whilst striving to maximise environmental benefits through green operations and processes in line with its triple bottom line focus.
Over the years, the Group has been backed strongly by Development Finance Institutions and multilateral funding lines,which reflects the confidence these global entities place in the Group's sustainable operations. Sustainability is embedded in the Group's ethos and embodied in its transparent, fair, equitable and beneficial products and services that are uplifting the lives and livelihoods of thousands across the globe, giving them hope for a brighter tomorrow.
After dominating the local market, the LOLC Group is now making giant strides overseas as well. Harbouring ambitions of replicating its success overseas, the LOLC Group has already built its reputation as the largest multi-currency,multi-geography microfinance platform in the world, operating NBFIs in 8 countries, backed by advanced technology platforms designed by its Sri Lankan operations which have been adopted by its overseas companies.
Contact Information
Head Office: No. 481, T B Jayah Mawatha, Colombo 10, Sri Lanka.
Contact/ Hotline Number: 0115 008 080
Email: enquiry@lolcgeneral.com