Our Partners
Amana Takaful Insurance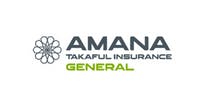 Takaful is derived from the Arabic root word "kafala" which means Mutual Protection and Joint Guarantee. Operationally, Takaful refers to participants contributing mutually to a common pool for mutual indemnity in the case of peril or loss. This arrangement is obligated through the tenets of Islamic Shariah.
With these ideals, Amana Takaful was incorporated as a Public Company for the purpose of Composite Insurance in Sri Lanka in 1999, with technical collaboration from Takaful Malaysia. Listed on the Colombo Stock Exchange since 2006, Amana Takaful has expanded its geographic footprint through 25 branches. Our overseas branch operation in the Republic of Maldives since 2005, was incorporated as a free-standing PLC listed on the MSE in 2011.
With the growth of the Takaful way of Insurance, They now count a staff strength of 400 plus, offering products and services tailored to the discerning diversity of the businesses and communities they serve.
Amana Takaful has received ISO 9001 accreditation.
Contact Information
Head Office: No. 660 - 1/1, Galle Road, Colombo 03, Sri Lanka
Contact/ Hotline Number: 0117 501 000
Email: info@takaful.lk