Our Partners
Janashakthi Insurance PLC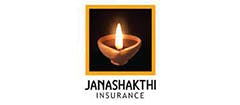 Decades of service to the nation has transformed Janashakthi from its humble, local roots, to being a key player in the Sri Lankan Insurance industry. Having brought in thousands of Sri Lankans into the organization, the Janashakthi family has consistently pursued one, bold ambition of lighting up millions of lives with the warmth and protection of Insurance
Janashakthi Insurance has commitment to their customers is served by the members of the Janashakthi family who have, for years, been pacesetters in service excellence and developed benefits that deliver a service that goes that extra mile, beyond the norms of Insurance. They are the sole reason behind many of the firsts Janashakthi Insurance have achieved in the industry and in Sri Lanka.
Janashakthi Insurance remain committed to providing their loyal customers with assurance and security as they expand their Life Insurance business across the island. This is why they have consistently pursued their purpose of uplifting lives and empowering dreams of Sri Lankans across all corners of the nation. It is why they have been trendsetters, raising the bar for Sri Lankans' expectations of their insurance providers. And it is why their customers continue to define them by their unflagging commitment to them and their loved ones.
In line with their purpose, they now journey forward to become a leader in Life Insurance industry, rooted in local entrepreneurship but fueled by a pioneering spirit that continues to believe in the protective light of Insurance.
Contact Info
Head office: No. 75, Kumaran Ratnam Road, Colombo 02, Sri Lanka
Contact/ Hotline Number: 011 263 6636
Email: Insurance@janashakthi.com