Safety first! Be prepared for the worst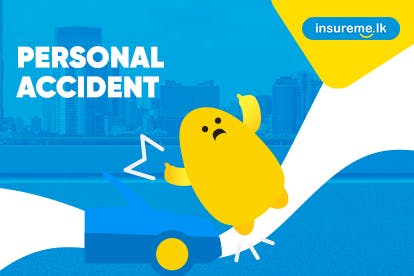 Personal Accident Insurance Through InsureMe
Accidents can happen at any time and in place, without any prior warning. Thus, ensuring the safety and security of your workforce with personal accident insurance cover is an essential part of showing that you care for your employees' well-being. An accident or death could place a huge financial burden on the employee or their family members due to high medical expenses, loss of income etc. Assistance in times like these will be invaluable and will foster loyalty among the workforce towards the business that cares about them.
A personal accident insurance cover is the best option for businesses to obtain a cash benefit following an accident which the employees could use to seek medical treatments for their injuries. Some businesses may feel that the industry they operate in is not one that is dangerous or could cause serious accidents/injuries. However, it will only take only a momentary lapse in concentration to cause an accident, which could have dire consequences for the business and the employee.
What type of accidents does the personal accident insurance cover?
These types of policies generally cover bodily harm or death caused by:
Road accidents.
Snake bites.
Drowning.
Falling Particles.
Being a victim of a riot or act of terrorism.
Any other external unforeseen event.
Whether an employee is injured while at work or during their off-time, the personal accident insurance policy will cover:
Disability cover if the injured person is unable to return to work because the accident caused a permanent disability.
Compensation for death and/or total use of eyesight, hearing, loss of limbs etc.
Such claims can be paid to either the company that has taken out the policy, to the employee themselves or to family members or beneficiaries of the employee in the case of an untimely death.
Of course, different policies will offer different benefits and covers. This is why you should not decide based on the first quote you receive from an insurer, but should compare different pricing and benefits. InsureMe is the best platform for you to get multiple quotations easily and efficiently and compare them to find the most suitable policy for your needs.
Benefits of a personal accident insurance
Low cost personal accident cover: Insurance policies such as these are paid for by the company, either in full or in part, with the employee only paying a very nominal monthly amount.
Benefits from the cover could be used to seek medical treatments related to accidents.
Disability cover: If the employee suffers permanent or temporary disability, the policy will offer ssupport in the event of income loss.
Death: The unfortunate and untimely death of an employee will not place any financial burden on their families.
Increases morale and employee loyalty: Employees who feel that their company cares for their wellbeing tend to be more loyal to their employer.
Increases employee retention: A business will be able to retain their valued employees since people will be less likely to leave the company.
Attract high level employees: When a company offers benefits such as personal accident insurance, it helps attract high level, experienced employees to the business.
Cost effective premiums: When a business gets a group policy such as this, it is far more cost effective than getting individual covers.
What factors will influence the premium of a group personal accident insurance policy?
The premiums for these types of policies will depend on many factors, including:
The number of employees being insured.
The type of jobs that the employees do. Certain dangerous and hazardous vocations may incur higher premiums.
The Industry that the company operates in.
Prior claims history.
How to get your personal accident insurance online through InsureMe?
Enter all the required information.
Select the insurers from whom you want to receive quotations.
Compare and select the most suitable policy for your needs.
Why should I select InsureMe for my group personal accident Insurance Policy?
You can compare and select the most suitable and affordable insurance policy for your employees.
A dedicated InsureMe expert will be there to advise you every step of the way.
InsureMe has a claims team that is always ready to help in any situation.
A personal accident insurance cover is essential for both your business and your employees. So, don't wait any longer. Get hassle free multiple quotations, through InsureMe and choose the best possible policy for your valuable employees!